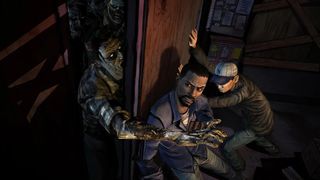 Virtual reality is the future of gaming and this latest news proves that once again. If you  thought The Walking Dead couldn't be more harrowing, it is time to discover the zombie phenomenon face to face in VR. Skybound Entertainment has just with the Skydance Interactive in order to create original VR games set in Kirkman's grisly world of zombies.
The association is likely to work over many years to come up with a "a number" of The Walking Dead VR titles. We have go to know about some other details as its first project expect that it will have a new setting and characters.
While Skydance and Skybound promise "an innovative contextual interaction system" for their upcoming zombie VR game as well, that phrase has various gaming industry buzzwords in it that we can just wonder what it really implies.
So far we have no idea about the release date and platforms for The Walking Dead's VR debut. Stay tuned to learn more.